Step-by-Step Guide to Withdrawing TFS from Bona Fides Crypto Staking Widget
Withdrawing TFS tokens from the Crypto Staking Widget can sometimes be a little bit tricky. But if you'd follow this step-by-step guide, it'll simply be easy peasy.
So let's dive in!
Step 1 - 2-Factor Authentication
The first thing to do before proceeding with the withdrawal process is 2FA (2-Factor Authentication). It's vitally important because you cannot make withdrawals without 2FA. These are security rules so that tokens are not withdrawn to an unknown third-party address, considering they can no longer be returned in this case.
Click on the three-dot icon next to your profile icon at the top right corner.

Then click on Settings >> Security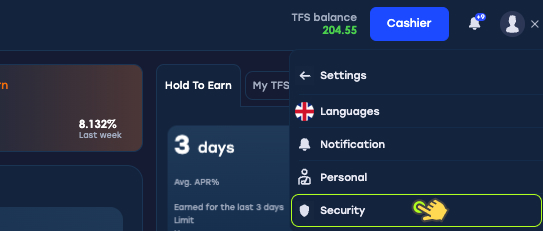 Use the toggle button to switch on 2FA

You'll immediately see a pop-up that requires you to scan the QR code using the Google Authenticator or Authy mobile app. If you don't have Google Authenticator or Authy apps, you can easily download them on your mobile device and scan the OR code.
Enter the 2FA code that you received on your mobile device after scanning the QR code, and click Activate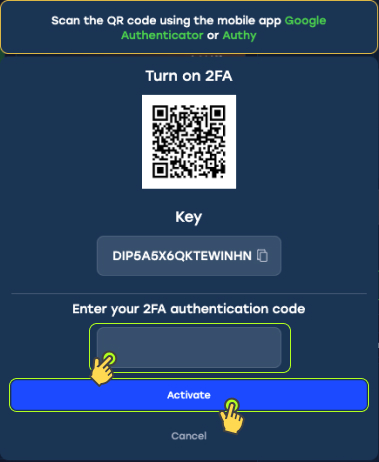 Once you click on "Activate" you'll receive a confirmation that your 2FA has been turned on. Only after this can you proceed to withdraw TFS.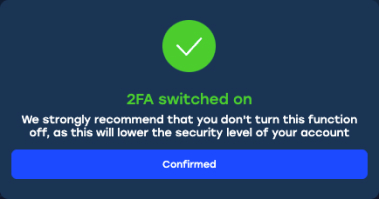 Click "Confirmed" and proceed to Withdrawal
Step 2 - Withdrawal
To successfully make a withdrawal, you need to have a decentralized exchange like Pancake, Cryptology or Uniswap, where you can swap the TFS to USDT, and thereafter convert it to FIAT currency. Let's consider withdrawing to Cryptology which provides a more direct transfer of TFS.
First, you need to transfer TFS from the Bona Fides Affiliates Crypto Staking widget to your cryptology wallet.
Create an account on cryptology
Next click on "Balances"
Then click on "Deposit"
One the Deposit page, select "Exchange" as your balance
Choose TFS as wallet and click Next
On the TFS deposit page, select BEP20 as preferred network
Then copy the TFS wallet address and move over to the Bona Fides Crypto Staking widget
Follow this guide for withdrawing into the wallet you copied:
Again, click on the three-dot icon next to your profile icon at the top right corner
Then click on "Withdraw"

Choose crypto as a convenient means of withdrawal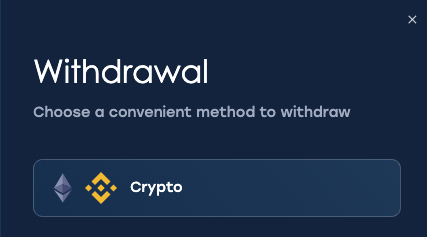 Then select a network (BSC or Ethereum)
Fill in the amount of TFS tokens you want to withdraw
Fill in the wallet address that that you copied from Cryptology. It must be a BEP20 wallet address, starting with 0x….

And finally, enter your 2FA code (simply open Google Authenticator and generate a 2FA code)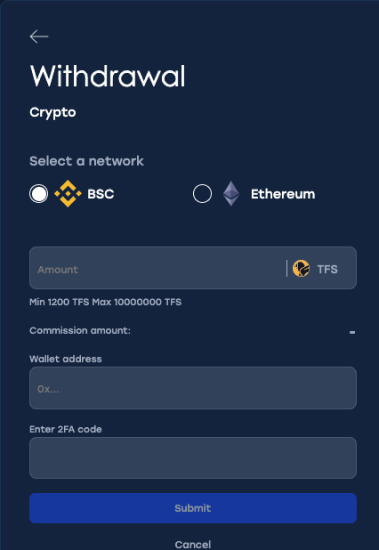 Click "Submit" and confirm the transaction
NB: The commission amount is 2% of the total withdrawal amount.
The TFS you transferred are readily available in your cryptology wallet.
Next:
Get back to your Cryptology account
Click on Exchange and choose TFS/USDT
Then click on the "sell" button. This means you're selling or swapping your TFS for USDT.
Choose the amount of TFS you want to sell and complete transaction
Then,
You can swap or sell the USDT for FIAT currency
For more information or questions, please contact your manager or the support team